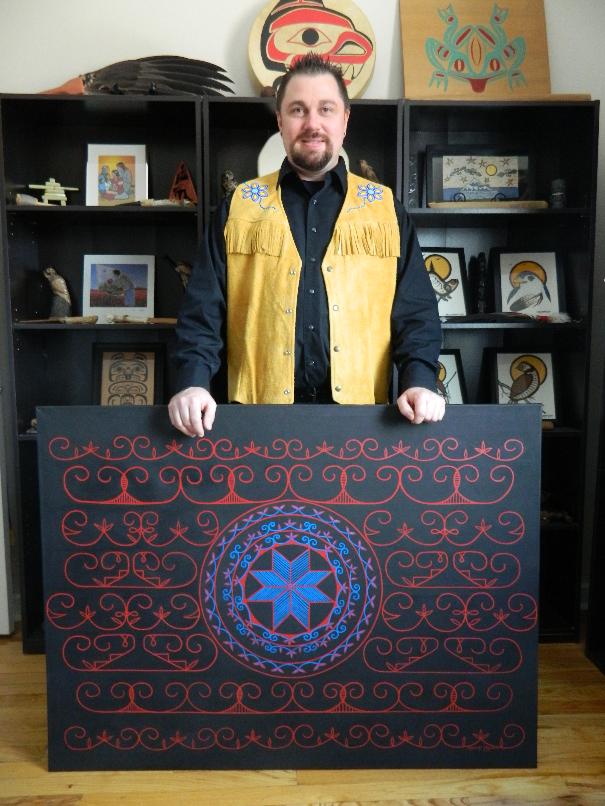 Marcus Gosse (ᒪᕒᐠᑲᐢ ᐧᑲᐢ) is a Newfoundland Mi'kmaq Artist, and a member of the Qalipu Mi'kmaq First Nation Band in Newfoundland. Marcus' grandmother, Alice Maude Gosse (maiden name-Benoit), is a Mi'kmaq Elder, who was born and raised in Red Brook (Welbooktoojech), NL (Benoit First Nation-Western Newfoundland). Marcus was adopted by the Sandy Lake First Nations, Ontario Ojibway-Cree (Oji-Cree) in 2005, and given his native name Papamikapow which means "Traveler" (He who travels, not only physically, but, spiritually).
Marcus incorporates the ancient Mi'kmaq Star, Mi'kmaq Petroglyphs, Hieroglyphs, and various double curve designs into the landscapes of his paintings. Marcus has taught visual arts at the elementary, junior, and senior high levels; presented several workshops and lectures; organized art shows in various First Nations Communities; had two solo shows in Stephenville, NL(Regional Museum of Art and History) and Truro, Nova Scotia( Marigold Cultural Centre;) and has participated in several group art shows in Atlantic Canada. Marcus was commissioned by the Town of Torbay in 2005 to paint a 60 foot mural in Tapper's Cove, Torbay, NL to celebrate "Come Home Year".
Marcus is represented The Leyton Gallery of Fine Art in St. John's, NL. In 2009, Marcus' painting titled,"Seeking Mi'kmaq Enlightenment" was exhibited in a group show by the Art Gallery of Nova Scotia, and is now a part of their permanent collection. In 2015, Marcus' painting titled, "Vision From A Sweat Lodge" was purchased and acquired by The Rooms during the Annual Provincial Art Procurement Program(Art Bank), and is now included in their permanent art collection. In 2016, two additional paintings were acquired by The Rooms, "Mi'kmaq Caribou(Qalipu) Soup" and "Revival", which displays a Cultural Renaissance(rebirth) in Mi'kma'ki(Mi'kmaq Territory) through Inukshuks, Mi'kmaq double curve patterns, and the eight point star.